Hoe kan ik mijn hond wassen?
Honden met een gezonde huid en vacht hoeft u niet of nauwelijks te wassen. Maar wist u dat wassen bij sommige huidaandoeningen kan helpen? Dit moet wel op de juiste manier gebeuren en met de juiste shampoo. Anders kunnen de klachten alleen maar verergeren. Wij leggen u graag uit hoe u uw hond het beste kunt wassen.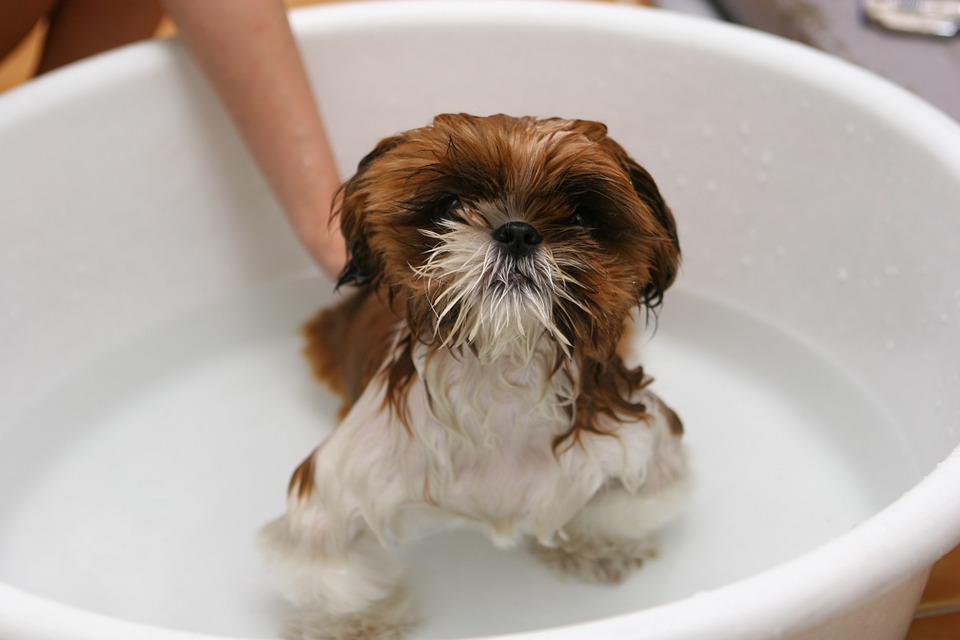 Waarom wassen?
Veel diereneigenaren denken dat wassen alleen handig is bij het verwijderen van onder andere huidschilfers, vuil en parasieten. Maar shampoo helpt ook om gemakkelijk medicinale stoffen (bijvoorbeeld tegen jeuk) op de huid aan te brengen. Shampoo richt zich direct op de huid. Het fijne hiervan is dat er weinig tot geen bijwerkingen zijn. Ook is shampoo in vergelijking tot veel andere middelen goedkoop.
Welke shampoo is geschikt voor mijn hond?
Honden zonder huid- of vachtproblemen hoeft u niet te wassen. Heeft hij in iets vies gerold en wilt u hem toch een keer wassen? Kies dan voor alleen water of een neutrale shampoo, zoals Sebocalm shampoo. Sebocalm is een milde hypoallergene shampoo die de huid kalmeert. De shampoo is geschikt voor een normale tot droge huid.
Heeft u een hond met vette, ruikende en/of schilferige huid? Kies dan voor Sebolitic shampoo. Sebolitic shampoo stimuleert de celvernieuwing, gaat de overmatige talgproductie tegen en werkt kalmerend. De shampoo zorgt voor een gezond huidflora.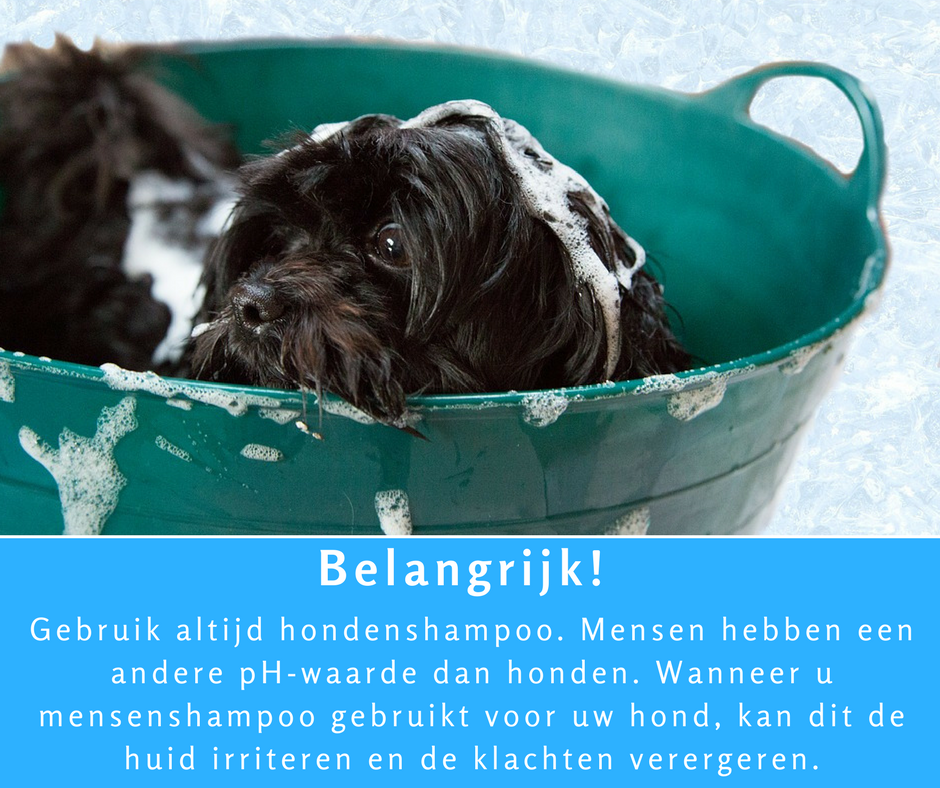 Stappenplan hond wassen
Borstel uw hond. Het is belangrijk om uw hond van tevoren te borstelen. Klitten houden namelijk vuil vast. Daarbij is het moeilijker om de shampoo uit te spoelen wanneer uw hond klitten heeft.
Vul het bad met lauwwarm water of zet de douche aan. Het water van het bad mag ongeveer tot de knie van uw hond komen. Let erop dat het water niet te warm of te koud is.
Plaats de hond in het bad of de douche.
Maak uw hond nat. Schep water over uw hond heen met uw handen of maak hem met de douchekop nat. Houd de douchekop dicht bij de vacht van uw hond. Dit is minder spannend voor uw hond, dan wanneer u hem van een afstandje natspuit.
Zeep uw hond in. Masseer de shampoo goed in en pas op dat er geen shampoo in de ogen komt.
Laat de shampoo intrekken. Sebocalm en Sebolytic shampoo moeten zo'n vijf tot tien minuten intrekken.
Spoel de shampoo uit. Zorg dat er geen shampooresten overblijven in de vacht. Bij honden met een vieze vacht of honden met huidproblemen kunt u de wasbeurt nog een keer herhalen.
Laat uw hond schudden. Als uw hond zich goed uitschut, dan schudt hij grotendeels van het water al uit de vacht.
Droog uw hond af. Met een handdoek kunt u de vacht verder droogmaken. Doe dit door de vacht droog te deppen in plaats van wrijven. Gebruik liever ook geen föhn om uw hond droog te maken.
Extra tips
Een hond wassen kan best een opgave zijn. Met deze extra tips maakt u het wassen een stuk plezieriger voor u en uw hond.
Leg een rubbermat op de bodem van het bad of de douche, zodat uw hond niet wegglijdt;
Was uw hond met een spons als hij de douchekop eng vindt;
Houd de douchekop onderwater wanneer u water in het bad laat lopen;
Zorg voor goede associaties in de badkamer. Sommige honden komen alleen in de badkamer tijdens een wasbeurt, waardoor ze de badkamer niet in willen. Zorg dat uw hond ook weleens in de badkamer komt voor iets leuks;
Blijf zelf rustig. Als u zelf gestrest bent, doordat het wassen niet goed lukt, werkt dit vaak alleen maar tegen;
Beloon uw hond regelmatig tijdens de wasbeurt met uw stem of iets lekkers.