De beste verzorging voor uw kitten
Een nieuwe kitten is natuurlijk hartstikke leuk. Toch zijn er een paar belangrijke zaken waar u over na moet denken wanneer u een kitten aanschaft, zoals juiste voeding, anti-vlooienmiddel en ontworming. Wij vertellen u hier graag meer over, zodat u uw kitten een goede start kunt geven.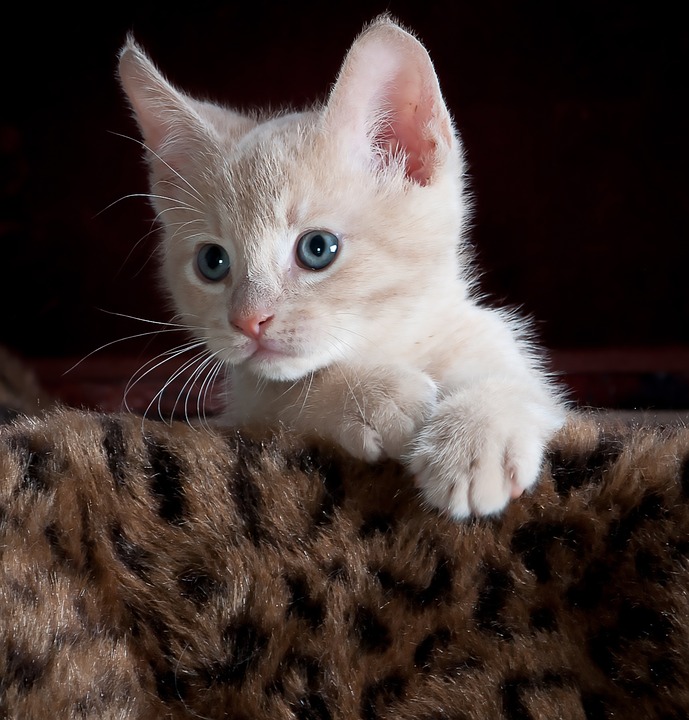 Dierenartsbezoek & chippen
Wanneer u uw kitten pas heeft, is het slim om hem te laten checken door uw dierenarts. Zo weet u zeker dat uw kat helemaal gezond is. De dierenarts kan u ook handige adviezen geven over de gezondheid van uw kitten. Dit dierenartsbezoek kan vaak gecombineerd worden met de eerste kittenvaccinatie met 9 weken. Wanneer uw kitten 12 weken oud is, krijgt hij zijn tweede (en laatste) kittenvaccinatie. Daarna hoeft hij pas na een jaar weer gevaccineerd te worden.
Bij katten is chippen niet verplicht. Toch is het zeker aan te raden, want ieder jaar komen er veel katten in het asiel terecht. Dit zijn vaak rondzwervende katten. Zo kwamen er in 2011 24.107 zwerfkatten binnen bij de asielen. Een groot deel van deze katten is niet gechipt of niet (juist) geregistreerd en daarom kunnen ze vaak niet meer worden teruggebracht naar hun eigenaar. Slechts 3.373 katten (14%) konden met hun eigenaar worden herenigd.* Het is daarom slim om uw kat te laten chippen. Veel mensen combineren dit met de castratie of sterilisatie (met 6 maanden), omdat hun kat er dan niets van voelt en hij toch pas daarna naar buiten gaat.
De juiste voeding
Goede voeding is belangrijk om uw kat goed op te laten groeien. Goede kittenvoeding zorgt voor een gezonde groei, sterk immuunsysteem, goede (stevige) ontlasting en een glanzende vacht. Een goede en voordelige kittenvoeding is Sanimed Kitten. Deze kittenvoeding van Sanimed kunt u geven totdat uw kat wordt gecastreerd of gesteriliseerd. Daarna verbruikt uw kat minder energie en daarom raadt onze dierenarts aan om over te gaan op de voeding voor volwassen katten van Sanimed. Wanneer u uw kat niet laat steriliseren of castreren mag u de kittenvoeding tot 12 maanden geven.
Ontworming
Alle kittens krijgen wormen mee van de moeder tijdens de dracht of via de moedermelk. Een goede ontworming is dus erg belangrijk. De gevolgen van een wormenbesmetting bij een kitten zijn erger dan bij een volwassen kat. In een later stadium kunt u zien dat uw kitten een opgezette buik krijgt. Verder kan hij last krijgen van diarree (soms met bloed), braken, een doffe vacht, groeiachterstand en uw kitten kan vermageren. Milbactor mag al vanaf een 0,5kg gegeven worden en werkt tegen alle soorten wormen. Kittens moeten op de volgende leeftijden ontwormd worden:
2 weken;
4 weken;
6 weken;
8 weken;
3 maanden;
5 maanden;
7 maanden;
10 maanden;
Daarna iedere 3 maanden.
Anti-vlooienmiddel
Veel kittens krijgen ook vlooien mee vanuit het nest. Het is daarom ook belangrijk om uw kitten goed te beschermen tegen deze jeukende parasieten. Onze dierenarts raadt aan om uw kat iedere maand Advantage te geven. Advantage doodt alle vlooien die op uw kat zitten binnen 24 tot 48 uur na behandeling. Daarnaast voorkomt Advantage herbesmetting. Doordat de vlo niet hoeft te bijten om gedood te worden, is Advantage ook zeer geschikt voor katten met een vlooienallergie. Houd er wel rekening mee dat Advantage niet mag worden gegeven aan kittens jonger dan 8 weken. Wanneer uw kitten jonger is, ga dan naar uw dierenarts voor een passend middel.
Bent u zelf een fokker, of wilt u een keer een nestje kittens? Kijk dan op onze fokkerspagina voor kraampakketten en andere benodigdheden voor kittens.
Door te zorgen voor de juiste voeding, vaccinaties en de juiste bescherming tegen vlooien en wormen geeft u uw kitten een goede start. Zo kunt u nog jarenlang genieten van uw kat.
*Bron: http://www.chipjedier.nl/