De beste zorg voor uw huisdier na ziekte of een operatie
Wanneer uw huisdier ziek of net geopereerd is, wilt u hem graag helpen tijdens de herstelperiode. Uw dierenarts zal u medicijnen meegeven, maar soms wilt u net wat extra's doen. En hoe geeft u eigenlijk gemakkelijk medicijnen in? Wij leggen u het graag aan u uit.
Aansterkvoer
Wanneer uw dier geopereerd is, of slecht wil eten kunt u hem/haar speciaal aansterkvoer geven. Dit voer is extra smakelijk, werkt eetlustopwekkend én versterkt het immuunsysteem. Goed aansterkvoer voor honden en katten is Hill's A/D. Aan konijnen, cavia's, kleine knaagdieren en plantenetende reptielen of vogels kunt u Critical Care geven. Beide voedingen zijn ook gemakkelijk als dwangvoer via een spuitje in te geven.
Supplementen voor meer kracht en energie
U kunt uw hond of kat ook ondersteunen door hem/haar supplementen te geven. Nutri-plus gel is een smakelijk en energierijk supplement om uw hond of kat aan te laten sterken. De pasta bevat vitaminen, mineralen en spoorelementen. Daarbij kan het gemakkelijk door het gewone voer gegeven worden. Nutri-plus is tevens geschikt voor snelgroeiende jonge dieren, jachthonden, werkhonden, drachtige en zogende dieren. Nutri-plus stimuleert de eetlust en zorgt voor een gezonde huid en vacht.
Tabletten ingeven: makkelijker gezegd dan gedaan
Bij herstellende dieren is het vaak nodig om tabletten in te geven en dat is gemakkelijker gezegd dan gedaan. Veel huisdiereigenaren vinden het moeilijk om tabletten in te geven, waardoor het een heel gevecht wordt om medicatie te geven. Dat is niet leuk voor uzelf en uw huisdier. Gelukkig zijn er hulpmiddelen om het gemakkelijker te maken.
Easypill is een kneedbaar 'snoepje' waar u het tabletje in kunt verstoppen. Onze dierenarts raadt aan om Easypill in drieën te geven. U geeft eerst twee keer Easypill zonder tabletje en als uw dier de smaak te pakken heeft, geeft u er een met het tabletje. Easypill heeft een sterke geur en smaak, waardoor uw dier niet merkt dat er een tabletje in zit. Zo is medicatie ingeven een leuke bezigheid!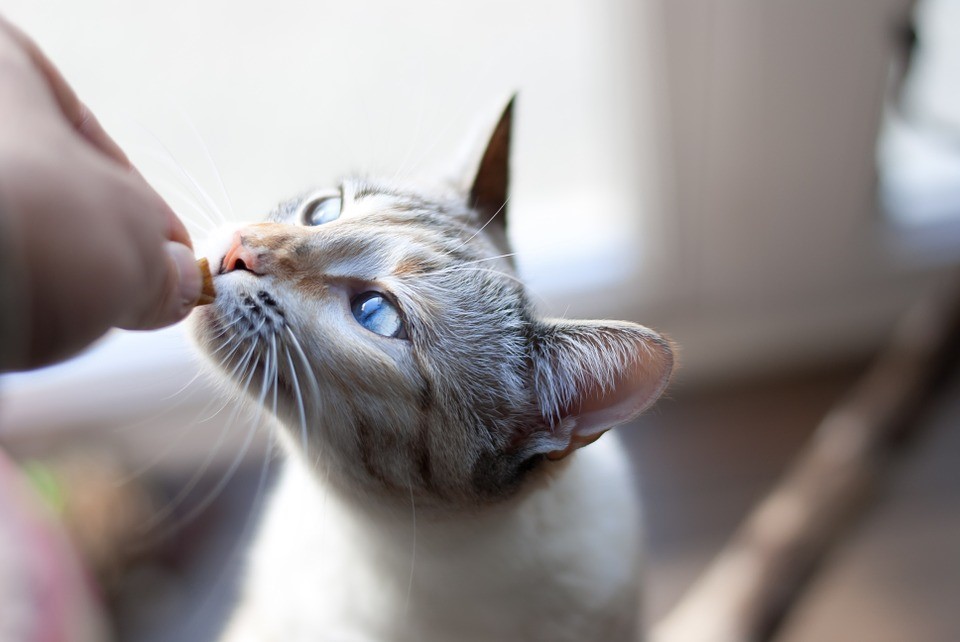 Wanneer u tabletten liever zonder snoepje ingeeft, is een pillenschieter een goede oplossing. Met een pillenschieter brengt u het tabletje verder in de bek van uw huisdier, waardoor hij het moeilijker kan uitspugen. Zo geeft u gemakkelijk tabletten in met een pillenschieter:
U plaatst het tabletje aan de voorkant van de pillenschieter.
U doet de bek voorzichtig open door uw hand helemaal over de kop te leggen en bij de kaken vast te pakken. Daarna kantelt u de kop van uw huisdier naar achteren. U zult merken dat de bek dan al een klein stukje opengaat. U kunt met uw een paar vingers van uw andere hand (waarin u de pillenschieter heeft) de bek iets verder openmaken.
Daarna brengt de pillenschieter achterin de bek en drukt op de knop aan de achterkant van de pillenschieter om het tabletje in de bek te laten vallen.
Wrijf daarna nog even over de keel van uw huisdier totdat hij het tabletje doorslikt.
Tip: Het is logisch dat het de eerste keer niet zo makkelijk gaat, maar oefening baart kunst! Het kan ook prettig zijn om hulp te vragen aan iemand die uw dier vasthoudt.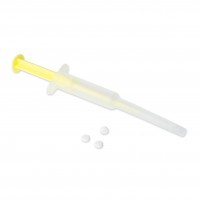 Help! Mijn dier zit steeds aan zijn hechtingen
Wanneer uw dier geopereerd is, is het niet de bedoeling dat hij aan de hechtingen zit. U kunt hem dan natuurlijk een kraag geven. Veel dieren hebben veel hinder van een kraag; ze lopen tegen dingen aan en kunnen moeilijk eten en drinken. Daarom is er een handigere oplossing: een medical petshirt. Uw huisdier kan vrij bewegen met het medical petshirt en heeft er geen hinder van. Toch kan hij alsnog niet aan de hechtingen komen. Ideaal toch?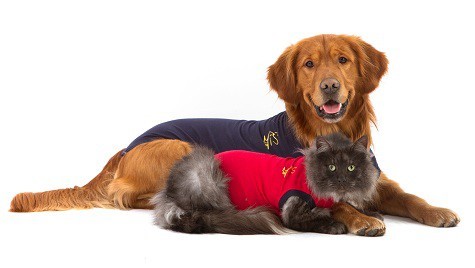 Met deze tips kunt u uw dieren helpen tijdens de herstelperiode. Neem bij twijfel altijd contact op met uw dierenarts. Zo komt uw dier er weer zo snel mogelijk bovenop!