Kat met schildklierproblemen: veel eten, toch afvallen
Bij oudere katten komt een te snel werkende schildklier vaak voor. U ziet dan dat uw kat afvalt, terwijl hij wel veel eet. Wij leggen u graag uit hoe u schildklierproblemen kunt herkennen en hoe u uw kat kunt ondersteunen.
Wat doet de schildklier?
De schildklier bestaat uit twee gedeeltes die aan beide kanten naast de luchtpijp in de keel liggen. De schildklier produceert het schildklierhormoon T4. Dit hormoon regelt de snelheid van de stofwisseling. Het regelt dus het verbruik van voedingsstoffen en energie. Bij katten met een schildklierprobleem is dit meestal een overproductie van het schildklierhormoon. Een schildklierprobleem wordt meestal veroorzaakt door een goedaardige tumor.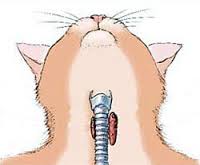 Links: gezonde schildklierlob Rechts: vergrote schildklierlob
Symptomen
Een te snel werkende schildklier is vaak iets wat er langzaam insluipt. Veel katteneigenaren merken het pas in een later stadium. De volgende symptomen kunnen duiden op een schildklierprobleem:
Veel eten;
Afvallen;
Veel drinken en plassen;
Gedragsveranderingen, zoals onrustig zijn (veel miauwen), agressief gedrag of op vreemde plekken liggen/slapen;
Hijgen en versnelde hartslag;
Slechte huid/vacht;
Braken en/of diarree.
Diagnose & behandeling
Door middel van bloedonderzoek kan uw dierenarts een diagnose stellen en een behandelplan opstellen. Wanneer uw kat een te snel werkende schildklier heeft, is behandeling erg belangrijk. Zonder behandeling kan uw kat hart- en/of nierproblemen krijgen door de versnelde hartslag en verhoogde bloeddruk. Ook kan hoge bloeddruk ook blindheid kan veroorzaken door loslaten van het netvlies. Daarbij zal uw kat alleen maar meer afvallen. Gelukkig zijn schildklierproblemen goed te behandelen. Zo kan uw dierenarts (levenslange) schildklierremmende medicatie voorschrijven, of hij kan een operatie voorstellen waarbij hij een gedeelte van de schildklier verwijdert. Uw dierenarts zal u adviseren over welke behandelmogelijkheid het beste bij uw kat past. Als tijdelijk aansterkvoer kunt u Hill's A/D geven. Daarbij is het belangrijk dat uw dierenarts de schildklier regelmatig controleert.
Dieetvoeding voor een gezonde schildklier
Verder kunt u Hill's Y/D geven. Dit is dieetvoeding speciaal voor schildklierproblemen. De schildklier gebruikt jodium uit de voeding voor de aanmaak van schildklierhormoon dat de stofwisseling, bloeddruk en lichaamstemperatuur regelt. Bij katten met schildklierproblemen wordt er al een teveel aan schildklierhormoon aangemaakt. Daarom zit er in Hill's Y/D minder jodium, waardoor er minder schildklierhormoon wordt aangemaakt.
Wanneer uw kat overgaat op Y/D voeding is het belangrijk dat uw kat niets anders krijgt, dus geen snacks of ander voer. Zo is de werking van de dieetvoeding optimaal. Verder is het belangrijk dat u geleidelijk overgaat van voeding, om zo de overstap zo klein mogelijk te maken. Hill's Y/D is verkrijgbaar in droog- én natvoeding.