Keratoconjunctivitis sicca, ontstoken ogen door te weinig traanproductie

Keratoconjunctivitis Sicca of KCS is een regelmatig voorkomende oogaandoening bij de hond en- minder vaak- bij de kat. Bij KCS is de traanproductie te laag, wat leidt tot verhoogde  kwetsbaarheid van de ogen/ontsteking van het hoornvlies (doorzichtige voorzijde van het oog) en bindvlies (vlies aan de binnenzijde van de oogleden) van het oog.
Bij bepaalde hondenrassen als West Highland White Terriers, Shih Tzu's, Mopshonden, Cavalier King Charles Spaniels, Engelse Springer Spaniels, Yorkshire Terriers, Samojeeds en Engelse Bulldoggen wordt het vaker gezien. 
Vaak hangt de aandoening samen met een auto-immuunreactie (immuunsysteem keert zich tegen de eigen traanklieren), maar KCS kan ook ontstaan door infecties, narcose of gebruik van bepaalde medicijnen als bijvoorbeeld TMP/S.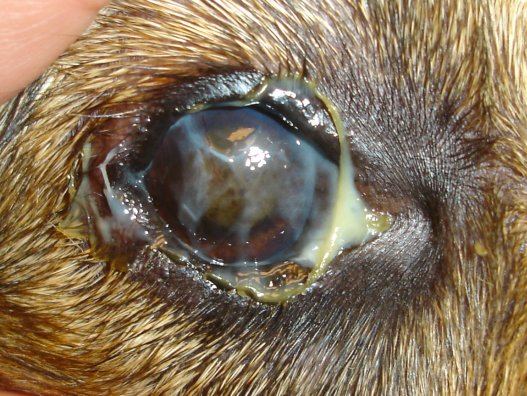 Afbeelding: Animal Eye Center

Symptomen
-pijnlijke, droog uitziende ogen
-slijmerige en vaak dik pussige ooguitvloeiing door bacteriële infecties
-knijpen met de ogen
-dof hoornvlies en/of een blauwe waas over het hoornvlies
-bij langer bestaande klachten: pigmentvorming of ulceraties van het hoornvlies
-roodheid en zwelling van het bindvlies

Diagnosestelling
De diagnose kan eenvoudig door de dierenarts gesteld worden, door met een Schirmer Tear Test de traanproductie te meten. Bij de Schirmer Tear Test wordt gedurende een minuut een meetstripje in het oog geplaatst.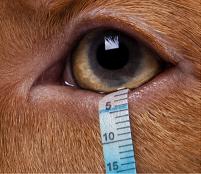 Behandeling
Als de KCS nog niet te lang bestaat, is het vaak mogelijk door behandeling met Cyclosporine oogzalf (Optimmune) de traanproductie weer voldoende op gang te brengen is. Omdat het effect van deze oogzalf soms enige tijd duurt, kan alvast met kunsttranen (bijvoorbeeld Duodrops of Lubrithal) begonnen worden om de ogen te beschermen. Een bestaande ooginfectie moet ook behandeld worden. Bij lichte infecties kan dit met oogreinigende vloeistoffen als Eye care, bij hevigere infecties en ulceraties zal een antibioticumhoudende zalf nodig zijn. Deze mag uitsluitend na consult van een dierenarts voorgeschreven worden.

De oogreinigers kunnen ook gebruikte worden om de ogen dagelijks/meerdere keren per dag schoon te spoelen. Als de Cyclosporine zalf niet het gewenste effect heeft, zal levenslang onderhoud met kunsttranen en oogreiniging meerdere keren per dag noodzakelijk blijven.