De vermagerende oudere kat deel 1: de snelle schildklier
Oudere honden worden vaak steeds zwaarder. De seniorenkat zie je nogal eens vermageren. In het algemeen zie je katten tot de leeftijd van een jaar of 10 eenvoudig op gewicht blijven of zelfs jaarlijks zwaarder worden. Boven de 10 jaar worden veel katten langzaam dunner. Soms doordat de voeropname (vooral van brokjes) minder wordt door bijvoorbeeld gebitsklachten en soms doordat de vertering van het voer minder goed wordt. Seniorenvoedingen voor de kat spelen hierop in doordat ze beter verteerbare grondstoffen bevatten en de voedingen calorierijker zijn dan de standaard volwassen voedingen.
Als het vermageren opvallend sneller gaat is er meer aan de hand. Vooral de vermagerende kat die overmatig eet is een karakteristieke. De meest voorkomende oorzaak van snel gewichtverlies bij de oudere kat is een te snel werkende schildklier als gevolg van een overactieve, meestal goedaardige schidkliertumor. De schildklier regelt het niveau van de stofwisseling en bij een te snel werkende schildklier worden de meeste katten zeer hongerig. En ondanks dat ze veel eten vallen ze toch af.  Verder kan opvallen dat de schildklierkat voor de leeftijd nog erg actief (soms zelfs onrustig) is, snel hijgerig kan zijn en vaak ook meer drinkt. De katten hebben meestal een opgejagd, snel hart en verhooogde bloeddruk.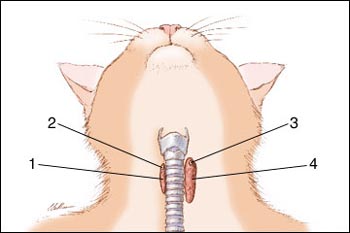 1. normle schildklier 4. vergrote schildklier
De diagnose is door de dierenarts eenvoudig te stellen door bloedonderzoek en er zijn diverse mogelijkheden om de schildklierpatient te behandelen. Behandeling is in de meeste gevallen succesvol en voorkomt dat de kat uitmergelt en dat er schade aan de hartspier ontstaat, Naast (levenslang) medicatie, chirurgie of behandeling met radioactief jodium, is er sinds enkele jaren ook behandeling mogelijk met een speciale voeding. De enige voeding die hiervoor bestaat is Hill's Y/D. Met Hill's Y/D maakt de schildklier nog gelimiteerd schildklierhormoon aan, waardoor de stofwisseling normaliseert. Hill's Y/D is verkrijgbaar als brokjes en als blikvoervariant.