Uw hond mee op vakantie
Het is weer zomer en veel mensen verruilen het regenachtige Nederland voor een zonnig vakantieland. Misschien neemt u uw hond gezellig mee op vakantie. Natuurlijk wilt u dat uw hond net zo van de vakantie geniet als u. Een comfortabele reis én goede vlooien- en wormbestrijding houden uw hond de hele vakantie gezond en gelukkig.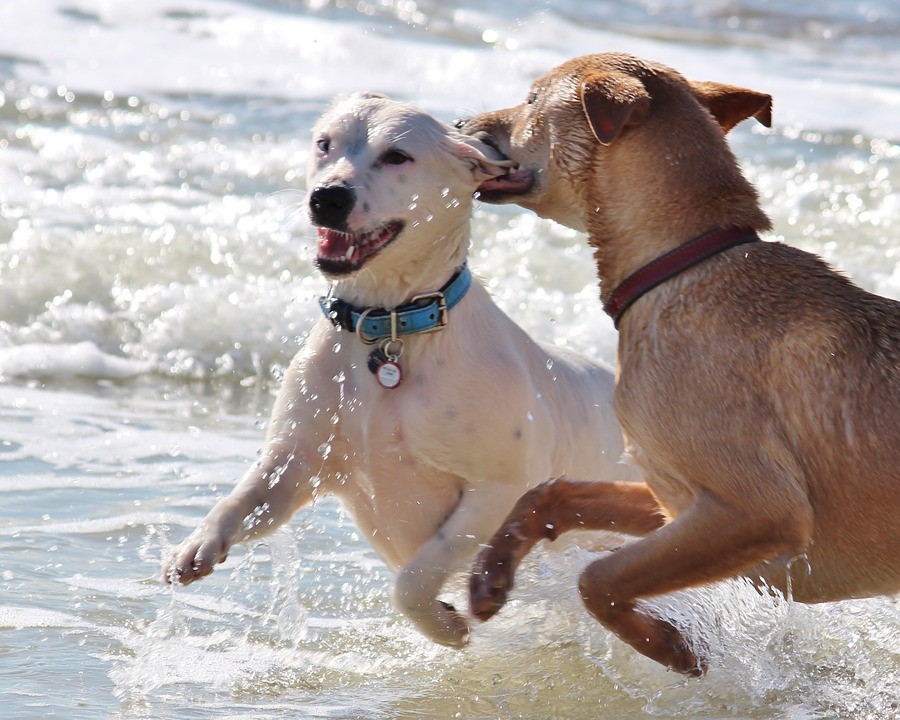 Zonder stress op vakantie
Uw hond meenemen op vakantie is natuurlijk hartstikke leuk. Misschien kiest u voor een zomerse bestemming waarvoor uw hond mee in het vliegtuig of de auto gaat. Voor veel honden kan dit best spannend zijn. Het gebeurt immers niet iedere dag dat hij zo'n stuk moet reizen. Om de reis zo prettig mogelijk te laten verlopen, raadt onze dierenarts Adaptil aan. Adaptil is een natuurlijk middel dat uw dier ondersteunt in stressvolle situaties.
Kriebelende beestjes op vakantie
In België, Frankrijk en de landen rond de Middellandse Zee komen Babesiose en Ehrlichia voor. Deze ziektes worden overgebracht door teken. De symptomen van Babesiose zijn onder andere koorts, rode urine en bloedarmoede. Ehrlichia kan acuut ontstaan of chronisch zijn. Honden met acute Ehrlichia krijgen vaak hoge koorts. Bij chronische Ehrlichia treden de symptomen (tot wel meer dan 7) jaren later op. Honden met chronische Ehrlichia vallen af en hebben ontstekingen aan de gewrichten en de nieren. 
 
Het is daarom belangrijk om uw huisdier zeker in het buitenland goed te beschermen tegen teken met bijvoorbeeld Scalibor. Daarbij weert Scalibor ook zandvliegen af die de ziekte leishmania veroorzaken. Leishmania is chronisch. De symptomen van Leishmania zijn onder andere huidproblemen en vermageren. Scalibor is wel 5 tot 6 maanden werkzaam. Ga dus goed voorbereid op reis en bescherm uw hond met Scalibor.
Houd uw dier wormvrij
In het buitenland is het ook belangrijk om uw hond goed te beschermen tegen wormen. In het zuiden en oosten van Europa komt hartworm voor. Deze worm wordt overgebracht door muggen. Scalibor weert deze muggen af. Verder raden wij u aan om uw dier te behandelen met Milbactor wanneer u naar Zuid-Europa gaat. Het is ook belangrijk dat u een maand na terugkomst uw hond nog een keer ontwormt met Milbactor. Zo voorkomt u een besmetting met hartworm. Wanneer u naar Alpenlanden of Oost-Europa gaat, is het belangrijk dat u direct na uw vakantie uw hond ontwormt met Milbactor. Zo krijgt vossenlintworm geen kans.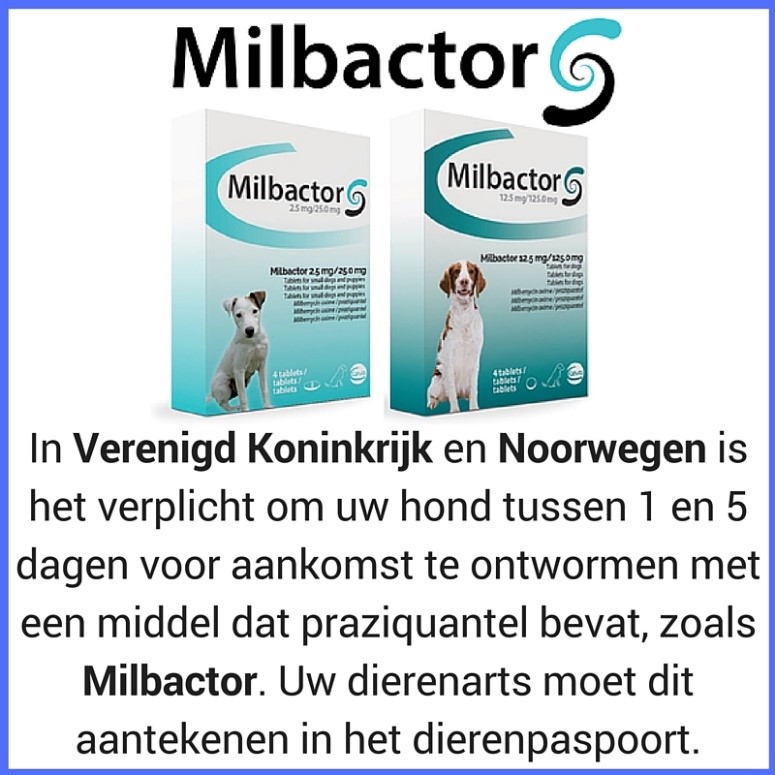 Zorg dat u voorbereid bent
Behalve goed ontwormen en ontvlooien gelden er voor alle landen invoereisen. Zo moet uw huisdier een geldig EU-paspoort hebben, gechipt zijn en alle vaccinaties moeten op orde zijn (inclusief bescherming tegen rabiës). In sommige landen moet uw hond altijd aangelijnd of gemuilkorfd zijn. Het kan ook zo zijn dat bepaalde hondenrassen niet toegestaan zijn. Laat u daarom altijd goed informeren en geniet voorbereid van uw welverdiende vakantie.