Voorkom een vlooienbesmetting bij uw huisdier
De dagen worden langer en de temperatuur gaat omhoog; de zomer komt er weer aan. Dit betekent ook dat het al bijna vlooienseizoen is. Gelukkig is een vlooienbesmetting bij uw huisdier gemakkelijk te voorkomen.
Hoe krijgt uw dier vlooien?
Honden en katten kunnen vlooien krijgen wanneer deze overspringen van dier op dier. Maar meestal lopen huisdieren vlooien op uit de omgeving. De vlo wacht in de omgeving totdat er een dier voorbijkomt en springt op het dier. Vervolgens bijt de vlo het dier en legt tientallen eitjes in de vacht. Een gedeelte van deze eitjes belandt op de grond. Zo kunt u het gemakkelijk onder uw schoenzolen mee naar binnen nemen. Het is daarom belangrijk om ook uw binnenkat een anti-vlomiddel te geven.
Heeft mijn dier vlooien?
Veel diereneigenaren hebben het niet gelijk door als hun huisdier vlooien heeft. Meestal worden de vlooien opgelikt door de hond of kat. Maar ondertussen heeft die vlo dan al tientallen eitjes gelegd in de vacht van het huisdier. Pas in een later stadium kunt u vlooien zien lopen. Helaas heeft uw huisdier dan al een behoorlijke besmetting. Wanneer uw dier vlooien heeft, zal hij last hebben van jeuk. De vacht kan er dan anders uit gaan zien door het vele bijten en krabben en er kunnen wondjes en kale plekken ontstaan. Deze plekken ontstaan meestal aan de achterkant van de rug. U kunt ook vlooienpoepjes in de vacht vinden. Deze zien eruit als kleine zandkorrels.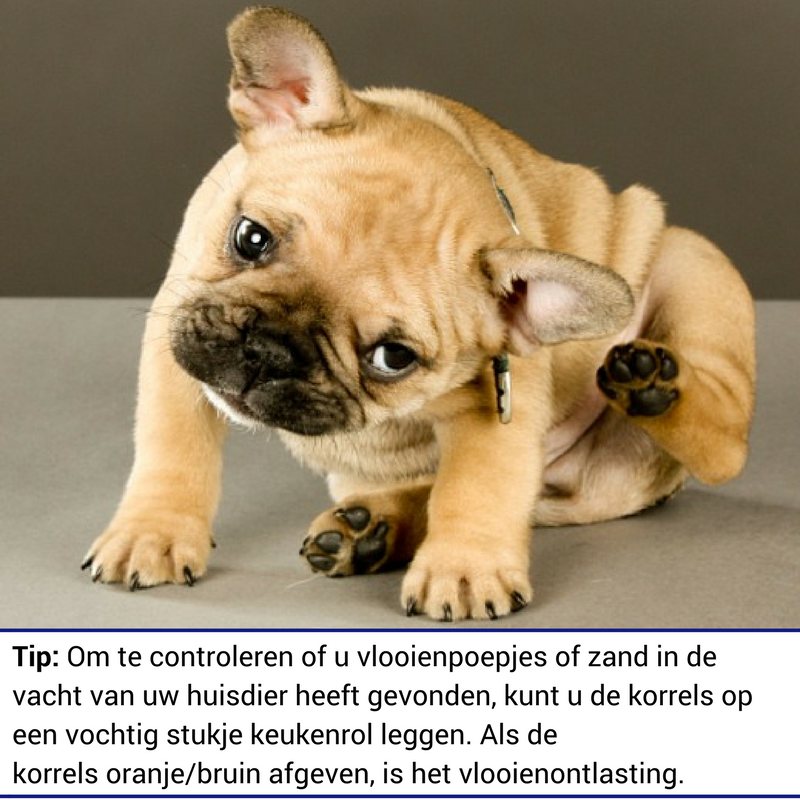 Waarom behandelen?
Vlooien zijn vervelende parasieten die uw huisdier jeuk geven, maar daarbij brengen zij ook lintworm over. Sommige honden en katten kunnen een vlooienallergie ontwikkelen. Zij gaan dan bijzonder veel krabben en krijgen huidproblemen. In erge gevallen (met name bij kittens en pups) kan het dier bloedarmoede krijgen. De kitten of pup raakt erg verzwakt en kan hier zelfs aan overlijden. Mensen kunnen geen honden- en kattenvlooien krijgen, maar u kunt wel gebeten worden. Dit geeft vervelende, jeukende bultjes. Verder kan uw dier via vlooien besmet raken met lintworm. Het is daarom raadzaam om uw dier tevens te ontwormen met bijvoorbeeld Milbactor of Milbemax.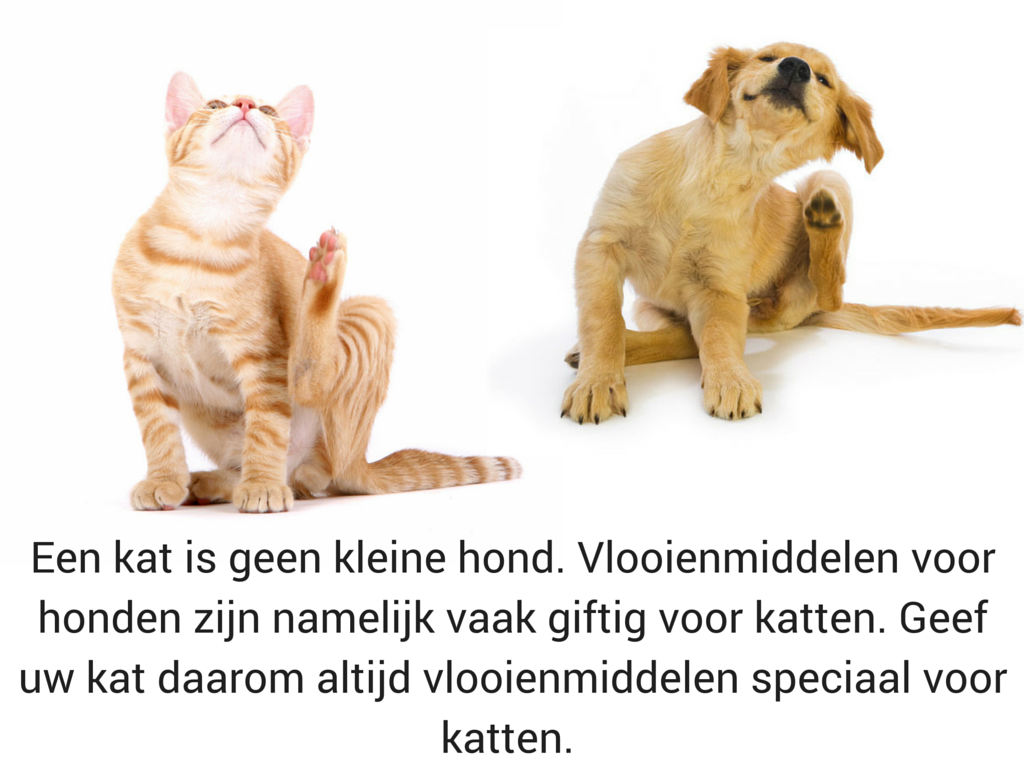 Voorkomen en genezen
Een vlooienbesmetting is gemakkelijk te voorkomen. Wanneer u iedere maand uw huisdier behandelt met een anti-vlooienpipet, hebben vlooien geen kans. Advantage voor honden en katten werkt al binnen één dag. Effipro Duo voor katten en Advantix voor honden werkt daarbij ook tegen teken. Geeft u liever geen anti-vlooiendruppels? Doe uw huisdier dan een vlooienband van Seresto om. Deze werkt wel zeven tot acht maanden tegen vlooien en teken. Wanneer uw dier al vlooien heeft, behandel dan ook de omgeving met Indoor-X omgevingspray. De spray doodt de vlooien en vlooienlarven die in uw huis leven, waardoor ze niet meer op uw huisdier kunnen springen. Verder is het verstandig om de ligplaatsen van uw huisdier te wassen en het huis goed stof te zuigen. Zo komt uw dier vlovrij de zomer door.