Vuurwerk en angst

We komen dichterbij december, de maand waarin onze huisdieren in toenemende mate met vuurwerk te maken krijgen. Voor sommige dieren is dit helemaal geen probleem, voor andere is het een zeer angstige periode. Vaak krijgen deze dieren de laatste dagen van december kalmerende of angstremmende medicijnen als alprazolam of diazepam door de dierenarts voorgeschreven. Behalve dat dit middelen zijn die niet voor langdurig gebruik geschikt zijn, zijn ze ook niet bij alle dieren even succesvol: het percentage eigenaren dat hierover tevreden is ligt rond de 70-75 procent (ongeacht welk middel gebruikt wordt). Al in een vroeger stadium beginnen uw dier voor te bereiden, zal ertoe leiden dat meer dieren een stressvrije decembermaand en oud-en nieuw kunnen beleven.
Het is dus belangrijk om bij de hond of kat, die al bij de eerste knallen (vaak al begin december) onrustig van vuurwerk wordt, hier tijdig op in te spelen.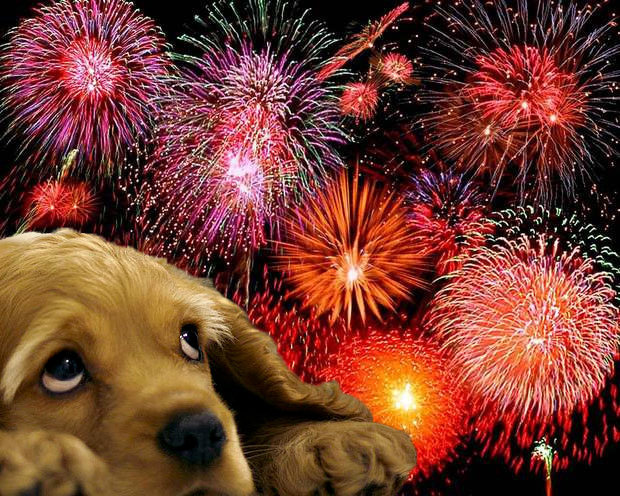 Oefenen met vuurwerkgeluid
Gebleken is dat zelfs op oudere leeftijd het oefenen met vuurwerkgeluiden in de meeste gevallen helpt in het verminderen van de angst hiervoor. Dit is een kwestie van heel rustig, steeds verder opbouwen van het geluidsniveau, terwijl u met uw hond of kat speelt of het dier wat lekkers geeft. Voor deze gewenning moet je minimaal enkele weken de tijd nemen en daarom is het nu nog een goed moment om ermee te starten. Er zijn oefen CD's verkrijgbaar om mee aan de slag te gaan.
Natuurlijke rustgevers
Voor de dieren die niet voldoende baat hebben bij alleen het oefenen, zijn er niet-medicinale, op natuurlijke stoffen gebaseerde producten, die veilig en langdurig gebruikt kunnen worden om angst door vuurwerk tegen te gaan. 
De meeste van deze middelen, zoals Zylkène, Adaptil (voor de hond), Telizen, natuurproducten van Puur, Feliway, en stressverlagende voedingen als Royal Canin Calm Diet, hebben enige aanlooptijd voordat ze werkzaam worden. Ze moeten ook het liefst gestart worden vóórdat er al sprake is van vuurwerkstress voor het beste resultaat. Zodoende is het advies om ze al vanaf half november aan uw dier te verstrekken.
De betreffende middelen zijn tot eind december met korting bij Hondenkattenapotheek te bestellen.

Laatste tips
zorg dat uw kat de meest heftige vuurwerkdagen binnen blijft en uw hond uitsluitend aangelijnd uitgelaten wordt om ongelukken door paniekerig wegrennen te voorkomen.
op oudjaarsavond kan het helpen de gordijnen dicht te houden en te zorgen voor voldoende achtergrondgeluid (muziek) en verlichting, zeker als uw dier alleen thuis moet blijven. Probeer dit laatste liefst te voorkomen!